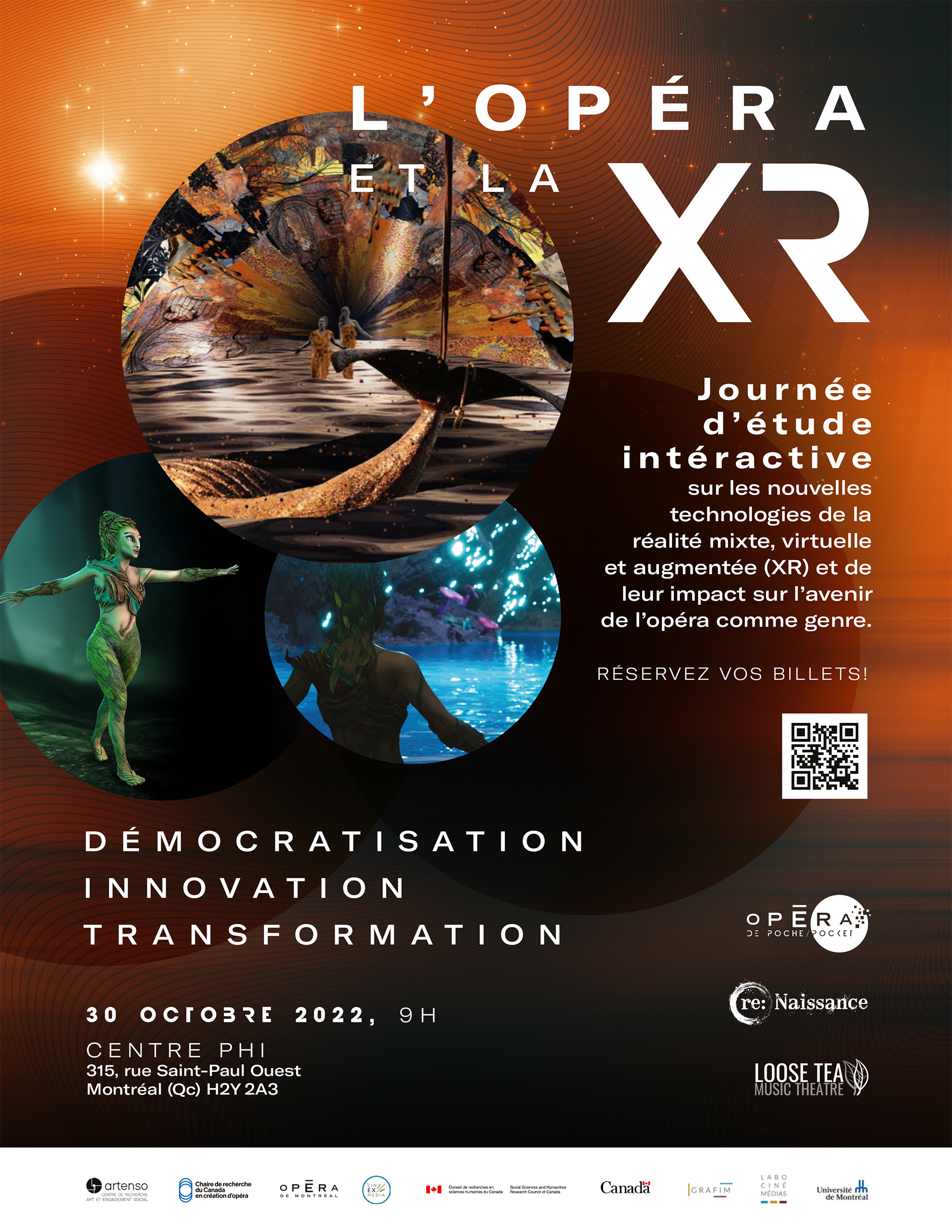 30/10/2022

Study Day : « Opera and XR : Democratization, Innovation, Transformation »
Dates
30/10/2022
9:00 am - 6:00 pm
Lieu / Location
Centre Phi
The stu­dy day "Ope­ra and XR : demo­cra­ti­za­tion, inno­va­tion, trans­for­ma­tion" will take place on Octo­ber 30, 2022, from 9 am to 6 pm, at the Phi Cen­ter, in Mon­treal. Orga­ni­zed by Oli­vier Asse­lin (Uni­ver­si­ty of Mon­treal), Tho­mas Car­rier-Lafleur (Uni­ver­si­ty of Mon­treal), Zoey Cochran (Uni­ver­si­ty of Mon­treal), Chris­tophe Gau­thier (Cégep de Saint-Laurent), Cathe­rine Gen­til­core (Opé­ra de Mont­réal), Syl­vain Mar­tet (Arten­so), Ana Soko­lo­vić (Uni­ver­si­ty of Mon­treal), Alai­na Viau (Loose Tea Music Theatre) and Debi Wong (re : Nais­sance Ope­ra), this day pro­poses to reflect on the future of ope­ra as a genre by eva­lua­ting the new pos­si­bi­li­ties that vir­tual and aug­men­ted rea­li­ty represent for it.
Wel­co­ming artists, per­for­mers, crea­tors, resear­chers and stu­dents, this public stu­dy day is an oppor­tu­ni­ty to present seve­ral inter­es­ting pro­jects, such as the Opé­RA de poche (Ana Soko­lo­vic, Oli­vier Asse­lin); to deve­lop inter­ac­tive work­shops with cinEX­me­dia part­ners (such as the Socie­ty for Arts and Tech­no­lo­gy [SAT]); and to present two round tables.
A bilin­gual web­site has been set up to present the event's pro­gram, its team and its various acti­vi­ties : https://operaxr.labocinemedias.ca/.