Thanks to the support of cinEXmedia, two young Montrealers provide a prime showcase for local student cinema.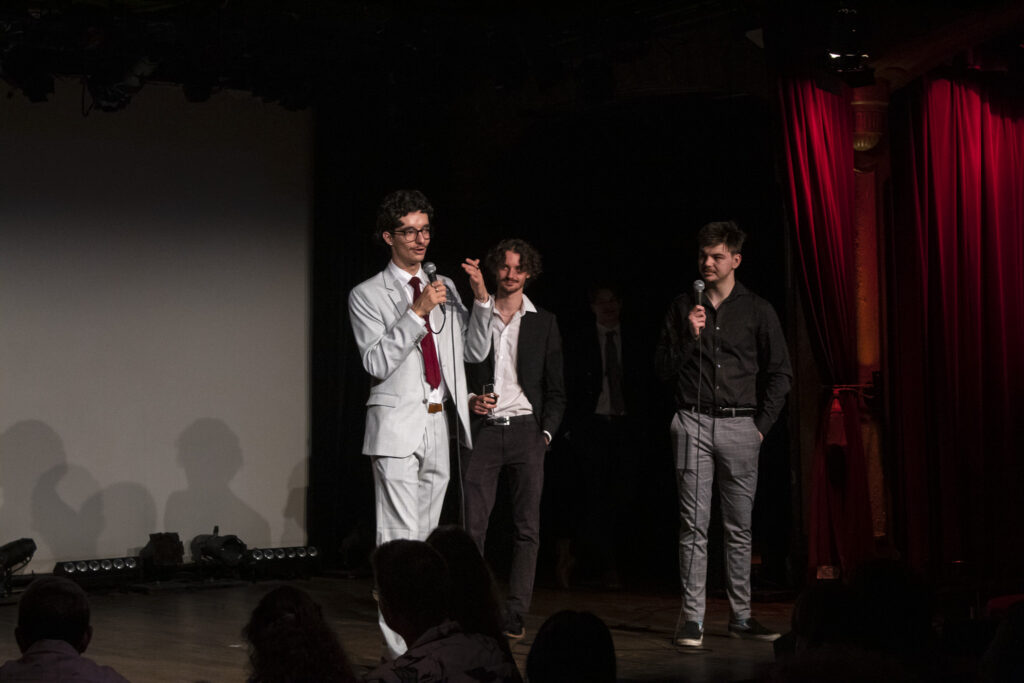 Lou Andrysiak
Vincent Ménard and Jérémie Gravel, who this year are beginning the third year in their bachelor's studies in cinema at the Université de Montréal, are organising an innovative film festival, Kinorino, in partnership with cinEXmedia.
This "Kino Project" will be launched on 28 September during an evening screening at Ausgang Plaza in Montreal. The event will feature short student films made in little time with few resources throughout the month of September. The films will be screened for the public and evaluated by other students. Prizes will be awarded for the best short films.
This evening will also enable the students present to converse, network and learn more about cinema through discussions with guest filmmakers.
Opening a Dialogue
Inspired by the organisation Kino Montréal, the project's director, Vincent Ménard, and its vice-president and project manager, Jérémie Gravel, hope to bring to the Montreal film scene all the creativity and energy found in student film production.
The two students had the idea of founding Kinorino after observing that the largest events in the film milieu, such as Kino Montréal's "Kino Cabarets," could seem intimidating for students. Even though they are often invited to join up, "students never really feel represented or involved [in these events]," Jérémie laments. "You end up being drowned when you're just a student, like too small a fish in too big a lake!"
Vincent and Jérémie were also disappointed in the "lack of dialogue" between students in the various programs of study at the Université de Montréal and between universities. "Our contacts truly stopped at the university's walls," Jérémie explains, "whereas with Concordia and the Université du Québec à Montréal alongside us we enjoy a vast network."
cinEXmedia's Educational Mission
To facilitate encounters and stimulate students' inspiration, Vincent and Jérémie requested the assistance of Thomas Carrier-Lafleur, a course instructor in the Département d'histoire de l'art et d'études cinématographiques at the Université de Montréal and deputy director and research coordinator at the Laboratoire CinéMédias. Carrier-Lafleur explains that their initiative was a perfect match with the "values of education through images" advocated by cinEXmedia. And it was through the financial support of this research partnership that the Kinorino project was born. The festival also counts among its partners the Université de Montréal, Concordia University, the Université du Québec à Montréal, the organisation Réalisatrices Équitables and Studio Narluga.
Today the team at Kinorino, founded in 2022, is made up of students from the three major Montreal universities with cinema studies programs. This year it has already organised two screening evenings, in a looser format than Kino evenings, at Lion d'Or in Montreal.
An Online Showcase
In addition to showing films at the screening evenings they organise, Vincent and Jérémie post them online free of charge. Short films made by students as part of their studies and shown at previous evening events are also accessible on their site.
These two film lovers are also planning to create an online directory where "every Montreal student can list their contact information and post information about cinema that interests them. If, for example, you are looking for a boom operator, you can consult the directory and find a student available for this work," Vincent points out.
Taking note not only of the enthusiasm their evening screenings have generated but also student interest in their future projects, Vincent and Jérémie say that they are very proud of what they have accomplished. They invite the public to subscribe to their Instagram page, to take part in their evening event on 28 September, and above all to take an interest in the work of the new generation of local filmmakers.