11/05/2022

A presentation by Caroline Martin in the 2022 Virtual Accessibility Conference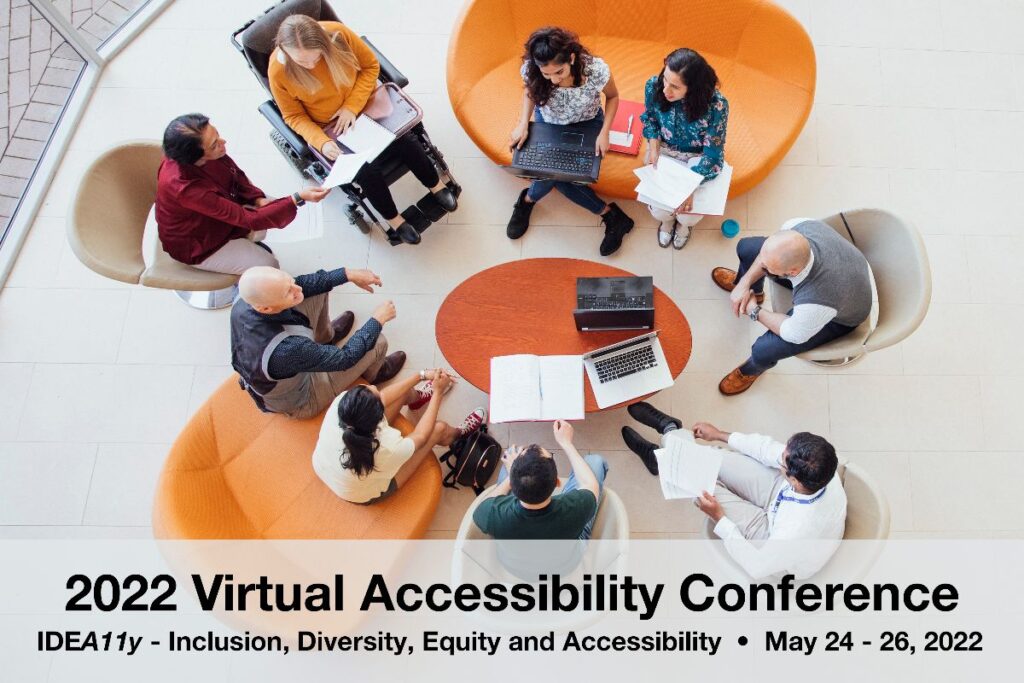 It is widely understood that the practice of accessibility is about more than following a checklist. Policy-makers and web, document and media creators recognize that it is critical to understand the needs of users with disabilities, include them in the design process, and ensure they can access the final product.
Yet, as public and private organizations address long overdue issues of inclusion, equity, and diversity (IDE), this raises new questions for people who work in the field of accessibility: How is accessibility understood through the lens of IDE? How is accessibility impacted by IDE issues? If disability is a single facet of a person's identity, can we be accessible if we only address accessibility needs?
We invite you to join us for this year's "Virtual" Accessibility Conference focusing on the relationship between accessibility and inclusion, equity and diversity.
The Annual Accessibility Conference welcomes both accessibility novices and experts, and encourages attendees to build communities and exchange ideas. The Conference is committed to hosting a high-quality and affordable event that is an inclusive and equitable experience for both presenters and attendees.
The Conference program includes both practical and theoretical sessions. We seek to ensure that our content is relevant and valuable to all attendees, including those who work in post-secondary education, the public and private sectors, as well as the general public. There's something for everyone!
Reception of different styles of audio description by blind/visually impaired kids
A presentation by Caroline Martin, post-doctoral Researcher
Learn about the research project on the reception of different styles of audio description by blind and visually impaired children and adolescents.
This research project aims to collect qualitative and quantitative data on the level of comprehension, emotional impact and appreciation of television series accompanied by two different styles of audio description tracks, standard and creative.
After this session, you will be able to:
Identify the differences between different styles of audio description.
Understand the influence of audio description styles on the emotional impact and comprehension level of audiovisual content such as television series.
Discover extracts of the different audio description created for the study and samples of the questionnaires.